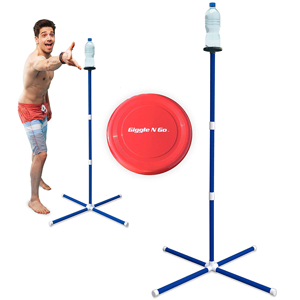 Frisbee Knock Off Game Rental
Actual Size: 47.6" L x 17.7" W x 46" H
Setup Area: 47.6" L x 17.7" W x 46" H




Frisbee Knock Off Game Rental DFW Texas
Inflatable Party Magic LLC is helping you take the fun of party games to new extremes with our Frisbee Knock off game. This game is great for those with a competitive side to them. Play teams or play individuals and see who can throw the frisbees the most accurate to knock the bottles off the tier. You simply place any empty bottle you may have at the top of the tier and throw your frisbee at the tier opposite you. You have a job is you are the defender also. This game will keep you running and competing even if you are not throwing. This game will keep all of your party guests, even the adults, occupied for hours at a time. The best part of this game is that it can be played inside or out so it doesn't matter if it is cold, wet, or too hot. Just move it inside a garage or living room and you are good.
How to Play Frisbee Knock off Game
To begin the game, you space the pole about 30ft. apart and then place an empty plastic bottle or even a plastic cup on top of the pole tier. You then split into team of 2 players each or singles if you prefer. Team members stand behind the same pole and players must stay behind the pole at all times either when throwing or defending. You flip a coin in order to see which team goes first. The team has their 1st player toss the frisbee in the attempt to hit the pole or the object on top. The defending team will attempt to catch the frisbee and the object before they hit the ground. The defending team with the frisbee will then throw the frisbee back trying to score points. The game will continue in this fashion for the duration of the game.
How to score:
Only the team tossing the frisbee can score points.
Points are only awarded when the frisbee or plastic bottle hits the ground
If the defending team catches the frisbee or plastic bottle, 0 points are awarded.
If the frisbee hits the ground behind the pole,1 point is awarded
If the plastic bottle hits the ground, 2 points are awarded
If both the plastic bottle and the frisbee hits the ground, 3 points are awarded.
The maximum points per round that can be scored are 3 points.
Early catch penalty- if the defending team catches the frisbee in front of the pole, the throwing team will get 2 points.
Player knocks the plastic bottle off: The plastic bottle is always live, so if either team bumps into the pole or bottle and it falls to the ground, the other team gets 2 points.
Inflatable Party Magic provides party and event rentals to most of the DFW Texas area.