Fort Worth Table and Chair Rentals
Rent Table and Chairs Fort Worth Tx
Inflatable Party Magic provides the best table and chair rentals Fort Worth Texas. The table and chair rentals that our company offers are sturdy and attractive commercial-grade plastic tables and chairs for all of your party rental or event rental needs. We have chair and table rentals in both black and white tables and chair rentals to choose from. Needing party rental chairs in Fort Worth? We rent chairs in Fort Worth! You can also rent party tables in Fort Worth. Your party is in good hands with Inflatable Party Magic. You can rest assured that we have keeping your guests comfortable under control.
Which Table and Chairs Should I Rent
Having a hard time choosing which tables and chairs you should rent (white or black tables)? If you are wanting rental tables that look great without table coverings, we suggest black as the black tables do not show scratches or scuff marks as white tables will. They always look new. If you are planning on covering your tables, the color will not matter. We also offer chair rentals in black and white. We also rent
cocktail tables
for standing around tables instead of sitting. Looking for picnic table rentals? We have those too! We offer kids picnic tables to rent in off-white and cool colors.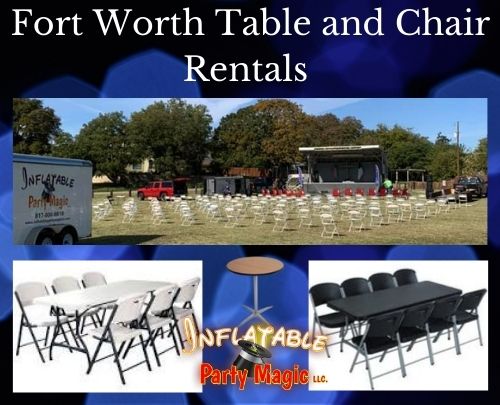 How Table and Chair Rentals in Fort Worth Work
Inflatable Party Magic is your Fort Worth party rental headquarters. We make renting tables and chairs easy. You can book online 24/7 or you can simply call our office at 817-800-8618 to book with one of customer service representatives. Table and chair rentals are a necessity for graduation parties, weddings, family reunions, birthday parties, class reunions, school parties, company parties and more. Need tables and chair rentals for kids? We rent kids picnic table rentals. We offer kids picnic tables in white, blue, and purple. We offer the tables and chairs delivered, dropped off to you, and picked up for the price you see for each. We can even set them up and take them down for an additional fee.
Types of Chairs to Rent in Fort Worth
When deciding what chairs to rent in Fort Worth Tx, consider the type of event or party you are having. I f it is an upscale event or one you want to add a touch of elegance to, rent the garden chairs. Garden chairs are also sometimes called wedding chair rentals. These are white and look like wood planks and offer padded seats. The garden chair rentals are great for weddings, showers, corporate events and anything you wish to add a touch of elegance to. Standard rental chairs are white plastic chairs or black plastic chairs that work for most any event and function basically. They do not have padded seats, but are practical and cost efficient.
Types of Party Table Rentals in Fort Worth
Are you looking for party table rentals? We rent party tables in many varieties and styles. Below we have detailed them for you.


Rectangle Party Tables - We rent rectangle party tables in black and white and in both 6ft and 8ft lengths. Keep in mind that these are rental tables and they will become scratched. White tables show the scratches and tend to look dirty even when they are not. Plan on using table cloths for white tables or rent black tables that don't show scratches.




6 foot table rentals- Our 6ft party tables seat 6 chairs comfortably around the table and can be rented in black and white. We also offer 6ft table packages with 1 6 foot table and 6 chairs.


8 foot table rentals- our 8ft party tables seat 8 chair comfortably around the table and can be rented in black and white. You can also rent an 8 foot party table package that includes one 8 foot table and 8 chairs.



Round Tables- Our company also rents round table rentals in 48inch and 60inch. All of our round tables are white. These are great for larger events and events where round seating is preferred over long tables. Plan on covering the tables with table cloths.


Cocktail Table Rental or Standing Tables as some call them- Cocktail table rentals are also provided to the Fort Worth area by Inflatable Party Magic. Cocktail tables provide the look of sophistication and offer a way have standing table use as they can be counter height. This is perfect for weddings, cocktail parties, showers, and corporate events.


Picnic Table Rentals for kids- Our company also rents picnic tables for kids. We have them in white and a few other colors. The kids picnic tables are perfect for kids parties and allow the kids to sit together at a height that is comfortable to them.


We Rent Tables and Chairs in Fort Worth
We rent Table and Chairs to Fort Worth and zip codes of 76126, 76140,76134, 76133, 76163, 76132, 76109, 76119, 76129, 76130, 76110, 76116, 7612, 76195, 76107, 76147, 76113, 76193, 76150, 76199, 76196, 76198, 76102, 76101, 76127, 76114, 76137, 76179, 76112, 76108, 76106, 76131, 76148, 76111, 76135, 76104, 76164, 76120, 76103, 76118, 76177, 76155, 76129, 76122, 76124, 76136, 76161, 76166, 76181, 76185, 76191, 76192, 76197, and 76071. We are fully insured and can rent chairs and tables to
Fort Worth city property
and party venues. Rent your Fort Worth chairs and Fort Worth Tables from Inflatable Party Magic and experience the difference. Don't Forget to add the Tents,
bouncers in Fort Worth
, or party rental accessories to make your party awesome.