Fort Worth Carnival Game Rentals
Carnival Games in Fort Worth Tx


Carnival game rentals done right! Inflatable Party Magic rents the best carnival games in the Fort Worth Texas area. Our selection of Fort Worth carnival games and Fort Worth giant games are the largest in you will find in Fort Worth. The pricing for our carnival game rentals are for up to 8 hours. If you are having a carnival or a carnival themed party, check out all the carnival game rentals we offer to Fort Worth below.


Rent Giant Games in Fort Worth

Looking for Giant Backyard games? We rent giant games too. Giant Game Rentals and Yard games can make your party awesome. Check out all of our backyard game rentals. Giant game rentals are a great way to add some fun to your party without spending a lot of extra money. Giant game rentals in Fort Worth are made easy with Inflatable Party Magic.
  Carnival and Backyard Games
Tic Tac Toe Carnival Game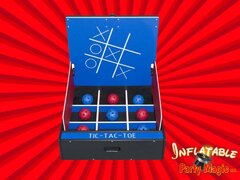 Roller Bowler Carnival Game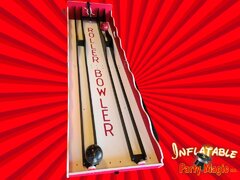 Stand a Bottle Carnival Game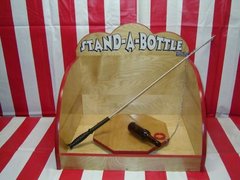 Street Skee Carnival Game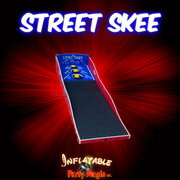 Flap Attack Carnival Game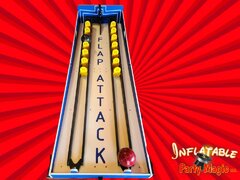 Ricochet Carnival Game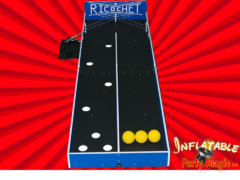 Snake Pit Carnival Game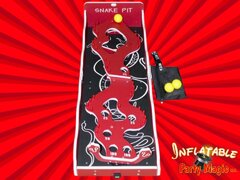 Whip N Skip Carnival Game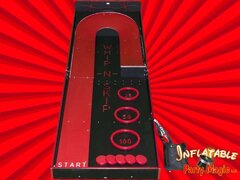 Alien Pinball Carnival Game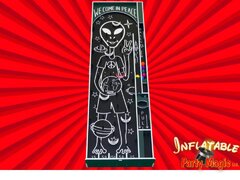 Strike Zone Carnival Game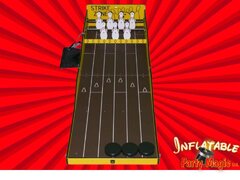 Backlash Carnival Game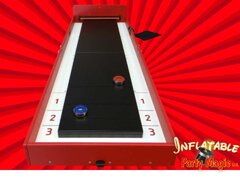 Plinko Carnival Game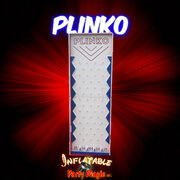 Clowning Around Carnival Game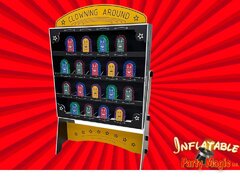 Kiddie Striker

Frog Hop Carnival Game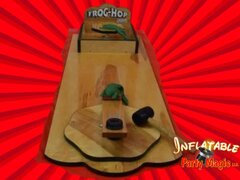 Crazy Hat Carnival Game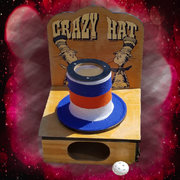 Fat Cats Carnival Game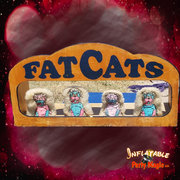 Ring Toss Carnival Game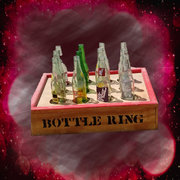 Milk Can Toss Carnival Game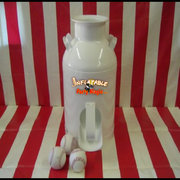 Wak A Rat Carnival Game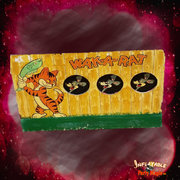 Carnival Game Table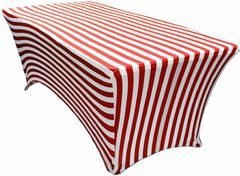 Golf One Shot Carnival Game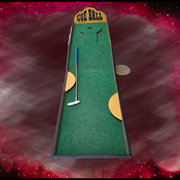 Giant Connect 4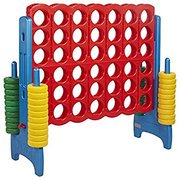 Giant Jenga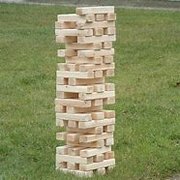 Giant Checkers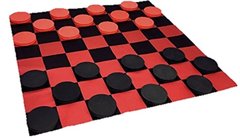 Mega Chess Game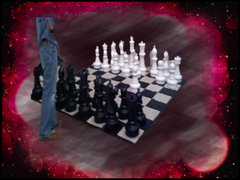 Tug of War Rope Rental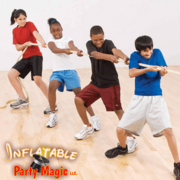 Giant Horse Shoe Game Rental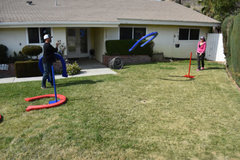 Ladder Ball Game Rental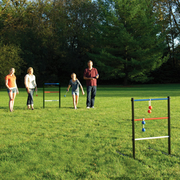 Golf Yard Pong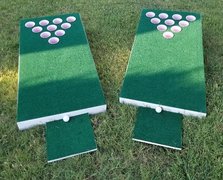 Jumbo Sized Yard Pong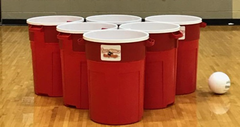 Carnival Game Trio Package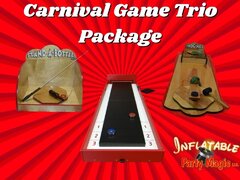 Carnival Game 4 Pack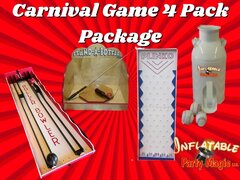 Carnival Game 5 Pack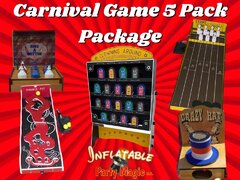 Carnival Game Ultimate Package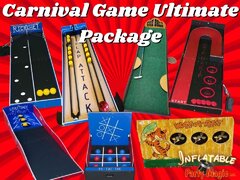 Spin Art Machine with supplies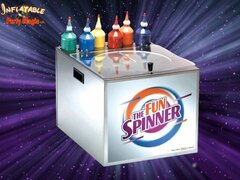 Spin Art Machine Double with supplies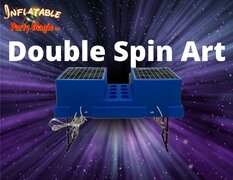 Extra Spin Art Supplies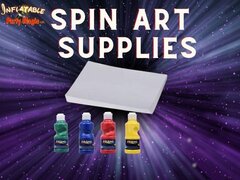 Baseball Giant Horse Shoe Game Rental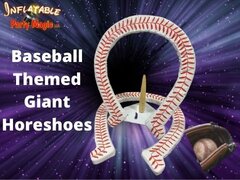 Corn Hole Game (bean bag toss)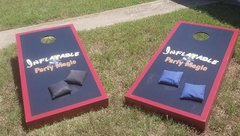 Cash Vault Money Grab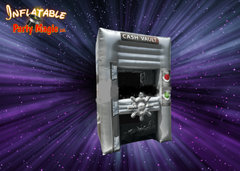 Soccer Dart Game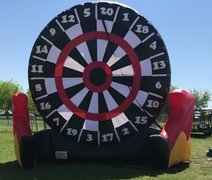 Interactive Play System Cones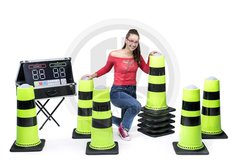 Hole in One 3 Player Golf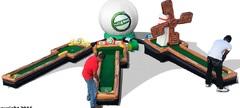 Giant Corn Hole Game Rental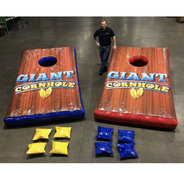 Axe Throw Extreme Game Rental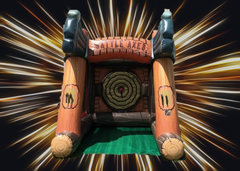 Axe Throw Double Game Rental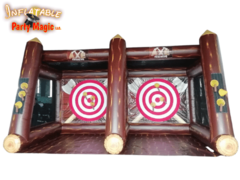 Connect a Shot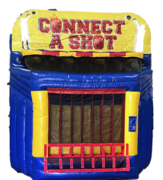 Field Goal Challenge Football Game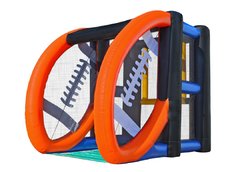 First Down Football Toss Game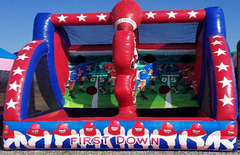 Quarterback Challenge Football Toss Game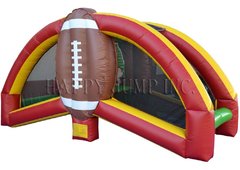 Baseball Fast Ball Inflatable Game Rental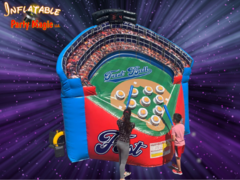 Big Top 4 Game Inflatable Carnival Game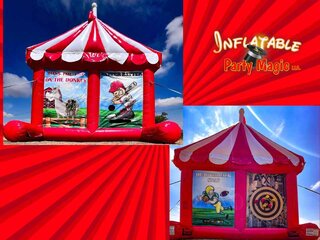 Baseball Challenge Game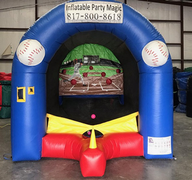 Hula Hoop Toss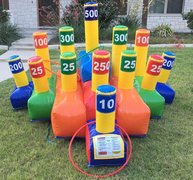 All Star Hoops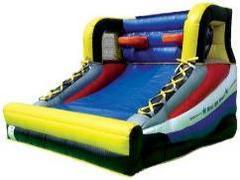 Penalty Kick Soccer Game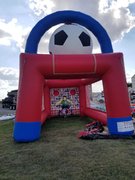 Soccer Fever Game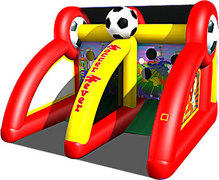 Full Court Press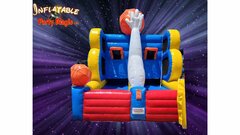 Double Hoop Zone Basketball Game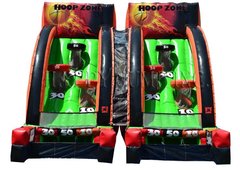 Hoop Zone Basketball Game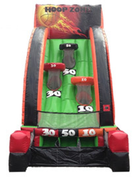 Giant Inflatable Battleship Game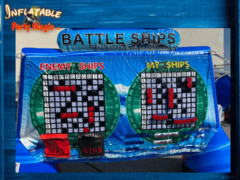 Flying Froggy Game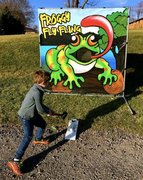 Country Jamboree Carnival Game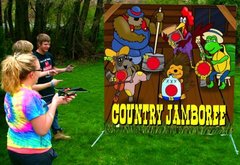 Penguin Fling Carnival Game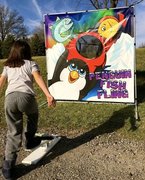 Ring the Horn on the Unicorn Carnival Game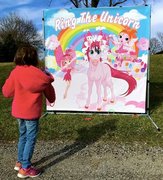 Bluetooth Speaker Rental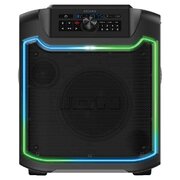 Giant Yardzee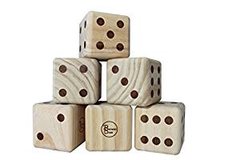 Giant Ring Toss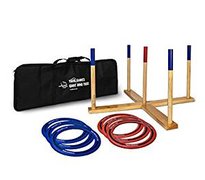 Giant Yard Pong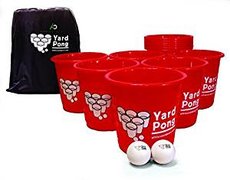 Party Package Sampler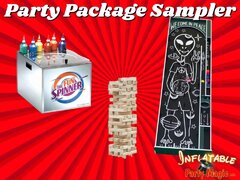 Create Your Own Package Standard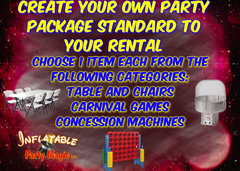 Create Your Own Package 2 Game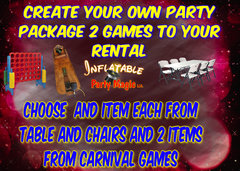 Create Your Own Package Basic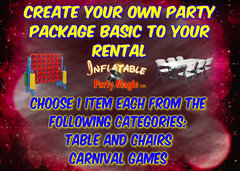 Inflatable Backyard Party Package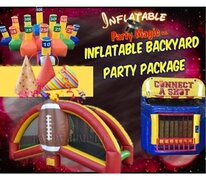 Backyard Party Package 1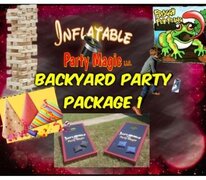 Backyard Party Package 2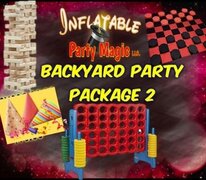 Backyard Party Package 3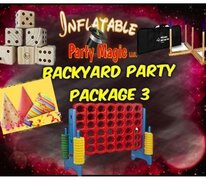 Backyard Party Package 4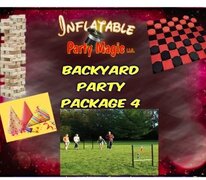 Backyard Frame Game Party Package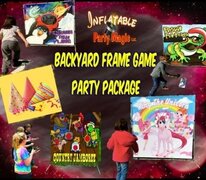 Inflatable 3 Sport Backyard Party Package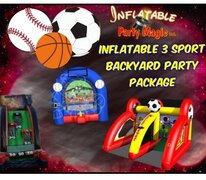 Inflatable All Sport Backyard Party Package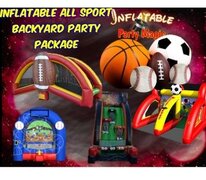 The Sports Package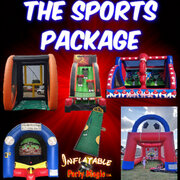 Bobbing for Apples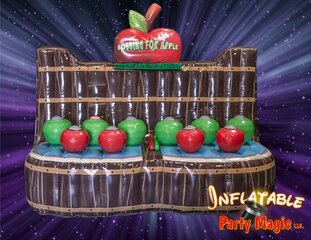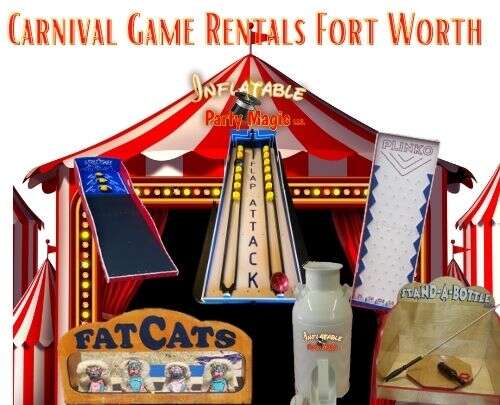 What Makes Our Carnival Game Rentals the Best in Fort Worth


Carnival rentals in Fort Worth Texas can complete your party or event from ordinary to extraordinary. Carnival game are the perfect way to complete large events for schools, churches, colleges, cities, businesses, etc. What better way to get complete families involved in your event. Carnival games take skill adults love to share their secrets to the games with their kids. Take advantage of the love for competition and make your event family friendly and one that your guests will talk about for years to come.

Some people add carnival game rentals to their Fort Worth parties occupy their adult guests while the kids are bouncing and sliding. The many carnival games entertainment rentals you will have to choose from include classics such as Milk Jug Toss, Hi Striker, Ring Toss, Fat Cats, Plinko, One Shot Golf, Can Toss, and more.
.
The great thing about carnival game rentals in Fort Worth is they can go indoors if the weather takes a turn for the worse. We are in Texas and our weather changes in the blink of an eye, but with these games, there is no need to change your party plans. Carnival rentals are a great inexpensive way to add something extra to your event! Kids and adults both love them and will get many hours of playing time in during your rental.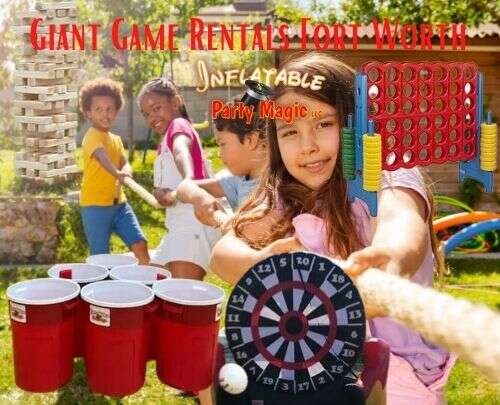 Fort Worth Giant Backyard Game Rentals


Giant games add fun to every event. Our Fort Worth Giant backyard game rentals have become very popular. Inflatable Party Magic backyard games are the giant game rentals you are searching for in the Fort Worth area. They took the small version of the games you love and made them huge backyard games compared to the original versions. Yard game rentals can be rented alone or with other party games to make your event complete. You can take giant game rentals and add them to rentals of inflatable, tables and chairs, extreme attractions, Create A Bear, or food machines to create your perfect party. Inflatable Party Magic offers a huge selection of giant backyard games to rent that will make your party the best it can possibly be. These fun lawn game rentals are great for kids all the way to adults.

Some of the giant outdoor game rentals we offer in Fort Worth are Giant Connect 4, Giant Jenga, Giant Yard Pong, Giant Ring toss, Giant Corn Hole, Giant Yardzee, and more. Looking for other popular backard games? We also rent lawn game rentals such as ladder ball, corn hole, tug o war ropes, golf yard pong, and more backyard game rentals. Giant outdoor game rentals are great for adults and kids. Backard Games are a great way to keep adults entertained and interacting with the children at your party
Fort Worth Carnival Game Rental Reservation Information
Take a look below and choose your carnival game rental selections and add them to your order and follow directions to book online quick and easily. If you are not one to book online, don't worry, you can call us at 817-800-8618 and we would be glad to place your order for you. Add Fort Worth table and chair rentals, to your order to make it complete. We also provide Carnival Ride Rentals.
We rent Carnival Games to Fort Worth Texas
Inflatable Party Magic rents Carnival Games to Fort Worth Texas. We also rent Giant Backyard Games to Fort Worth and Tarrant County. We rent carnival and backyard game Fort Worth Zip Codes of 76126, 76140,76134, 76133, 76163, 76132, 76109, 76119, 76129, 76130, 76110, 76116, 7612, 76195, 76107, 76147, 76113, 76193, 76150, 76199, 76196, 76198, 76102, 76101, 76127, 76114, 76137, 76179, 76112, 76108, 76106, 76131, 76148, 76111, 76135, 76104, 76164, 76120, 76103, 76118, 76177, 76155, 76129, 76122, 76124, 76136, 76161, 76166, 76181, 76185, 76191, 76192, 76197, and 76071.
Our drivers love delivering carnival games and giant backyard games to Fort Worth and dining at the wonderful restaurants they have. My staff love Uncle Julios off of I-30 and Camp Bowie and the Texas Road House of of I-20 and Hulen Street.
If you are looking for carnival game rentals near me, we can help. We rent carnival games near me in the Fort Worth Texas area.
Inflatable Party Magic is fully state inspected and insured. That allows us to be able to rent to
Fort Worth School District
and to
Fort Worth City Parks
such as Trinity Park and Harrold Park.
Want to know if we service your area? Give us a call us at 817-800-8618.